Kylie Jenner's epic documentary-style video of her pregnancy and the moments leading up to the birth of her first child deserves an Academy Award. Fine, that's a bold declaration, but you've got to hand it to her for actually pulling it off, "it" being keeping her pregnancy under wraps for the last 9 months. She also deserves a round of applause for effortlessly stealing everyone's thunder on an otherwise packed Sunday: the Super Bowl, Justin Timberlake's halftime show, an important This Is Us episode – collectively, they were no match for Kylie's big announcement that she was officially a mom and that another Kardashian-Jenner grandchild had been born.
If you've had the luxury of watching the 11-minute masterpiece a few times, chances are you don't need a guide to all the highlights and ~*moments*~ between Kylie and her family, Kylie and Travis, and Kylie and her baby. Just in case, I've put together a mini map, below. Welcome to the world, baby Jenner-Scott. You're already super famous.
0:22
Kylie's video opens with mama Kris giving birth to Kylie on Aug. 10, 1997. It looks like the whole family was in the room, including 13-year-old Khloé, who was wearing that year's hottest item: white overalls.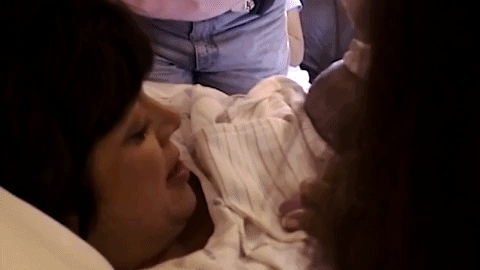 1:12
This tender moment between Travis and Kylie. It's likely this was at the beginning of her pregnancy, when things were just setting in.
1:53
#Fountaingoals. This has nothing to do with Kylie's baby but I am living for this fountain. And look how lush everything is!
2:14
Saint West clapping (at Kylie's birthday party) is pure joy.
Another tender moment between Travis and Kylie, this time at the doctor's.
3:39
This 'lil wave from Kylie and her bump, courtesy of cool aunt Kendall.